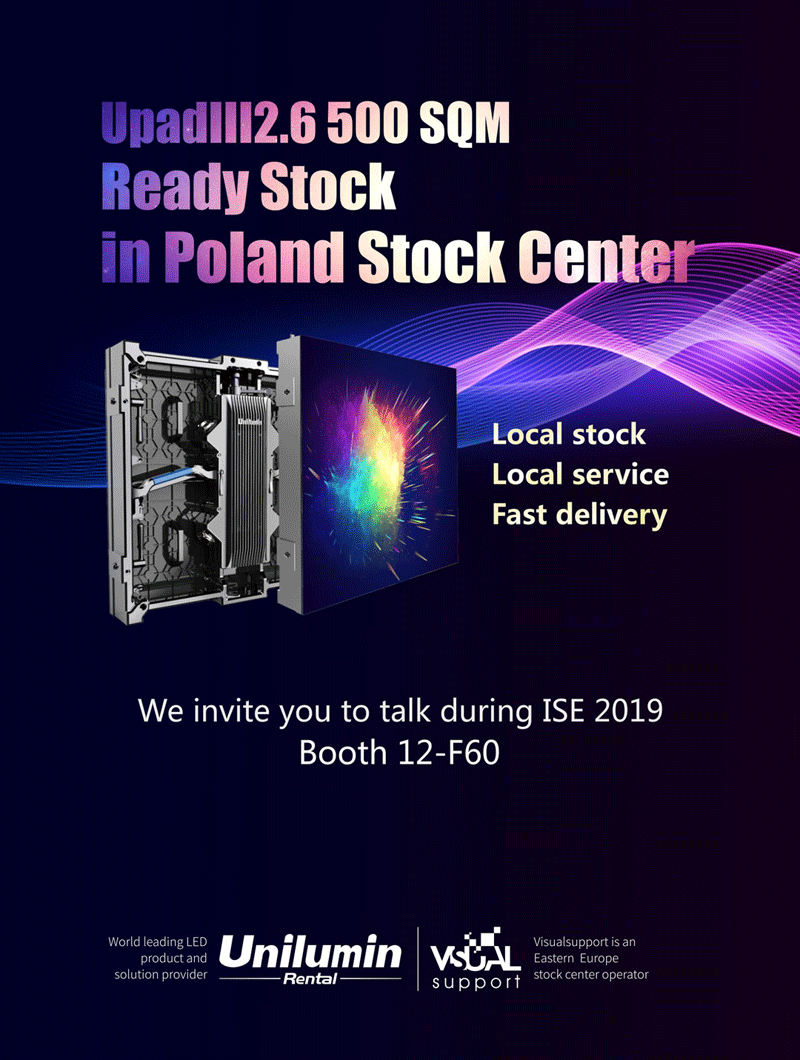 In the first month of 2019, Unilumin announces the establishment of Poland stock center for better servicing the Eastern Europe market. As one of Europe's most prominent companies specialized in supplying full-range multimedia services for big and small events, Visualsupport is going to take the role of Eastern Europe stock center operator.
The top recommended product brought by our close partner Visualsupport is UpadIII2.6 indoor rental LED display. Michał Płocienniak, CEO of Visualsupport has commented "Unilumin Upad III P2.6 is well designed and very reliable product that Visualsupport is using for 3 years. It was a very good decision to invest in it which additionally made stronger relations between Unilumin and Visualsupport Company. We recommend that LED screen to all customers who care about quality and reliability."
Now a big batch of UpadIII2.6, totally 500 SQM stock, are ready in Poland for cross rental. We invite you to talk about the new investment plan during ISE 2019 at Booth 12-F60 (Hall 12).
Benefits of Local Stock
Located in Kraków, the stock center can supply local stock for the Eastern Europe which will greatly decrease the shipping time from the factory. In addition, promotions are supposed to provide a platform for local customers to organize cross rental plan.
Local Service for Local Customers
​

The stock center is equipped with a panel of skilled technicians and consultants to offer a full service for local customers. Local services are including equipment consulting, event consulting, and technical consulting.
Quick Delivery
Based on the district of Poland, the stock is promised to be delivered within only one week in Eastern Europe, in order to support your events as soon as possible.